FF#9
The Bear with Sticky Paws: Clara Vulliamy (2007)
There's a girl called Pearl and she's being very grumpy, stamping her little feet and slamming the door.

Read more about Fiction Fridays here.
Like to take part? Read the rules and guidelines and get the badge here.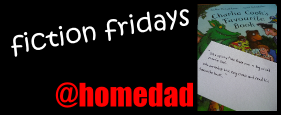 Extra Info:
For a lover of picture books, I can't believe we hadn't read any books by Clara Vulliamy before now. This has now been rectified and The Bear with Sticky Paws is a big hit in this household, especially with DG. With two daughters, I can definitely relate to having a grumpy girl (I'm sure it applies to sons just as much but I don't have that experience) and I think for DG the story is really resonating with her burdgeoning independence so it's a "read dat!" choice over and over (it's not midday and I think I've read it six times today – toddlers :lol:)

I adore the art, my mummy heart is completely touched with Pearl's grumpy face and I love that it ends with a hug and a kiss (especially as I get one from DG as we read that bit 🙂 ) DG loves the repetition: And – oh No! and MG likes counting all the different things that the bear eats (proving to me that there were not, in fact, too many ice creams to count :lol:)
I wholeheartedly recommend this book to anyone with toddlers, anyone with daughters (or sons!), anyone who has been a daughter, anyone who likes cute bears, anyone who loves picture books..