FF#12
The Astonishing Secret of Awesome Man: Michael Chabon & Jake Parker (2011)
Hi! I'm a superhero. My name is Awesome Man.
Read more about Fiction Fridays here.
Like to take part? Read the rules and guidelines and get the badge here.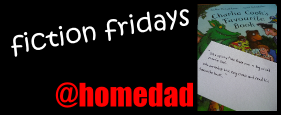 Extra Info:
The first part of this book that I fell in love with was the art. It is so reminiscent of old comics, down to the 'dotty' print look (it probably has a proper name, I'm a lay fan of comics rather than an aficionado…) It took me a second reading to get the "voice" right and appreciate the awesomeness of the story too.
This is a book probably aimed at boys, but I don't believe in gender stereotypes and my girls like superheroes too. But I can see it really working for boys especially because much as my girls do climb trees, and run everywhere, and play-fight constantly; I have seen a difference with friends who have boys in that we can stay indoors all day in bad weather without things deteriorating too badly for lack of outside space, for instance…
With my "parent" hat on, something I love in this book is: Awesome Man gets mad, but he knows he can't go hitting things because he's super strong and people will get hurt so he takes some time out to calm down, realises that he's running low on energy and needs a snack. This is a fantastic message for children who don't know how to deal with their strong emotions all the time.
With my comicbookfan hat on: Jake Parker's images are spot-on and there are plenty of gorgeous double-page spreads to drool over. I want to hear more about the bad guys: Professor Von Evil, The Flaming Eyeball, Sister Sinister and The Red Shark – how cool do they sound?!
With my child hat on: Can you spot awesome man's secret identity? Giant killer robots! Mutant talking jelly! Also, he says "pooped"!
This is a book for older-younger children, and up. It has a suggested age range of 4-8 which sounds reasonable, although I don't see why over-eights can't enjoy it too! It's a fantastic book for any mini superheroes in the making, boy or girl, and a good one for comic book loving mums or dads to read to their children. I hope there will be more stories about Awesome Man in the future, I want to know more about those bad guys for a start…
Disclaimer: We were sent a copy of The Astonishing Secret of Awesome Man by HarperCollins for review. No other financial reward was given and the opinions are my own. I was not asked to write this post.