FF#19
Just Like My Mum: David Melling (2004)
This is my mum.
Read more about Fiction Fridays here.
Like to take part? Read the rules and guidelines and get the badge here.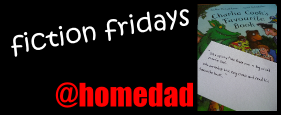 Extra Info:
I had another book lined up for this week but then remembered it was Mother's Day on Sunday so thought this was a better choice this week. The first book by David Melling we ever got was "Just Like My Dad" which I bought for DH's first Father's Day when MG was 4 months old. We all loved it so much, DH bought me "Just Like My Mum" for Christmas that year.
It's hard to talk about "Just Like My Mum" without mentioning "Just Like My Dad" really because they are complimentary books. In each, the little lion cub talks about how he/she (gender neutral so perfect for any child) wants to be just like his/her parents but the pictures are telling a slightly different story to the words where the poor parents are getting into all sorts of trouble on behalf of the lion cub.
This book starts "In the morning I always wake early… …just like my mum." I'm sure every mother (and father) can relate to the irony in that, and the picture of the bleary eyed mum lion tells it perfectly. This is a lovely book to share and is suitable from very small (it comes in board book format) onward. I love it.