FF#21
The Ravenous Beast: Niamh Sharkey (2004)
"I AM THE HUNGRIEST ANIMAL OF ALL," said the Ravenous Beast.
Read more about Fiction Fridays here.
Like to take part? Read the rules and guidelines and get the badge here.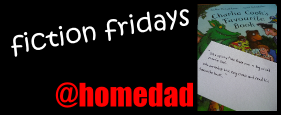 Extra Info:
The entire Chaos household loves this book. It's one Daddy Chaos often chooses to read to the girls (and he can do the voices, I'm rubbish at voices) and we never tire of it. The book starts with the Ravenous Beast stating that he's so hungry that he could eat "the big yellow house on the hill" then page by page another animal joins in with what they can eat (adding an extra item each time, ending with the whale listing nine items).
One touch I like is that often on one page, something from the next page can be seen in the distance (not always the case). The left hand page has text and the animals collecting together as each one joins in, the right hand page is a full picture with the animal and what it said it could eat (with bites out of each)!
Finally, the Ravenous Beast has had enough of the boasting, and proves that he is definitely the hungriest of them all by eating them! It's a fantastically unexpected ending and an absolute hoot for small children. Although now my over-sensitive five year old does ask whether he really eats them and sometimes we decide that maybe they just all ran away very fast 🙂