FF#24
Mixed Up Fairy Tales: Hilary Robinson & Nick Sharratt (????)
Little Red Riding Hood had a mum who was a washerwoman and fell asleep in Baby Bear's bed after eating a troll.
Read more about Fiction Fridays here.
Like to take part? Read the rules and guidelines and get the badge here.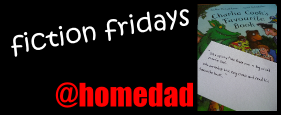 Extra Info:
MG got this from one of her friends for her fifth birthday this year, funnily enough only a week after I'd read this review from Polly at The Little Wooden Horse and mentally added it to my "books to look for" list.
No extra review from me because I recommend reading The Little Wooden Horse. The book has been a huge hit here, hilariously funny. The kids love it too 😆