FF#25
Ella: Alex T. Smith (2012)
Once upon a time there was a ladybird called Ella.
Read more about Fiction Fridays here.
Like to take part? Read the rules and guidelines and get the badge here.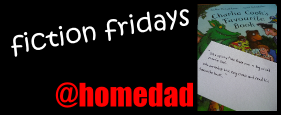 Extra Info:
This is a lovely re-telling of Cinderella with incredibly cute bugs! Cinderella is a ladybird, her step-sisters are wasps and the prince (in this case, Pierre the artist) is a spider. This is a gorgeous book with a sparkly cover and a pallette of mainly  reds, pinks and purples. MG loves fairy tales and I get to read this to her over and over again to drool over the art.
Ella is not a straight re-telling of Cinderella, it is its own story with elements of the fairy tale. Pierre the artist is looking for his muse; there isn't a 'fairy godmother' or magical pumpkins, but a very good friend who secretly helps (get the children to look for her hiding throughout the story); and there's no royal family in sight. It does have probably the most famous element: Ella leaves to get home before her step-sisters and drops her glasses as she rushes away!
The artwork is luscious, I wanted to take pictures of almost all the pages to put in this review. But I have chosen just this one: Ella and Pierre's first meeting with Paris subtly in the background.
This is probably a book more for girls. And lovers of buttons: look how the antennae have buttons on them 🙂