FF#33
Where's My Teddy?: Jez Alborough (1992)
Eddy's off to find his teddy.
Read more about Fiction Fridays here.
Like to take part? Read the rules and guidelines and get the badge here.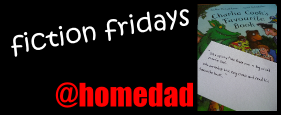 Extra Info:
Where's My Teddy? is the first of a trilogy about Eddy and the Bear: Where's My Teddy?; It's The Bear!; and My Friend Bear. We love all three books in this house, the rhymes and pictures are just perfect and it is nice to have all three books to follow the progression of the story!
In Where's My Teddy?, Eddy sets off into the woods to look for his teddy, Freddy. But what he comes across is a giant teddy, and wonders how he's going to get the new enormous Freddy home. Meanwhile, the Bear has found the real Freddy and is wondering how his teddy got so small…
Of course they both end up with their proper teddies, but not before scaring each other and running home to snuggle up in bed. The sequels develop the relationship between Eddy and the Bear, and their teddies. I do wonder about Eddy's parents though, letting him alone in a dark wood inhabited by bears 😉
Where's My Teddy? is a book that I can happily read and re-read, which is a good thing as it is requested regularly! It's an example of the best in children's rhyming books I think.