"It's nearly time for my party!" said Princess Spaghetti.
FF#3
You Can't Eat A Princess!: Gillian Rogerson & Sarah McIntyre (2010)
Read more about Fiction Fridays here.
Like to take part? Read the rules and guidelines and get the badge here.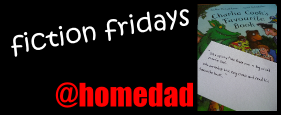 Extra info:
I did try to get a picture of the book before the battery of my camera died, but that was the best I could do of the front cover. It's not an easy book to extract from Destructo Girl! We borrowed this from the library 8 days ago and I have read it at least twice a day ever since. Both Mighty Girl and Destructo Girl choose it – MG finishes off the sentences and takes great pride in recognising some of the 3 letter words (all, the…) DG asks "Where's Princess?", point's out King Cupcake's crown and throws a tantrum when I refuse to read it for the third time in a row: "Again! Again!"


I like this book because the princess is a strong willed character who isn't afraid to go off to rescue her dad when no one else is willing to. Oh, and there's lots of chocolate! And aliens! The pictures are fantastic, lots of details in there and everything looks good enough to eat. Sarah McIntyre and Gillian Rogerson are both on Twitter, and well worth following. Sarah McIntyre has loads of extras on her website for crafts and parties. I've only just found this today, and I know my girls will love this, especially MG who loves all sorts of crafts.
I've put both this book and its sequel, You Can't Scare A Princess, on the girls' Christmas wish list! It has been an instant hit and I think I'm going to need to keep this library copy for quite some time!