FF#13
The Wolves in the Walls: Neil Gaiman & Dave McKean (2003)
Lucy walked around the house.
Read more about Fiction Fridays here.
Like to take part? Read the rules and guidelines and get the badge here.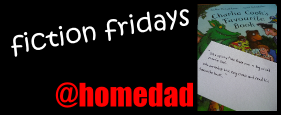 Extra Info:

I'd not thought of reading Neil Gaiman to my girls because they are my books. Including the picture books! See how this is mine, it's signed to ME! And I got it four years before my eldest was born…
Apparently this is a scary book. My girls, however, have been brought up on a diet of Scooby Doo and Doctor Who so this kind of 'scary' doesn't bother them at all. The wicked stepmother in Snow White or wicked fairy in Sleeping Beauty? Terrifying, apparently. Monsters etc, no problem at all…
This looks like a scary picture to grown ups, but it's not to children. That's jam, you see, and if you read the book you know it's jam, and what's scary about wolves eating jam?


Which is not to say that there aren't scary images in the book, depending on your definition of scary. For instance, a well-loved soft toy being left behind, well who wouldn't find that terrifying?
This is typical Neil Gaiman in that it doesn't talk down to children at all. And every strange happening is taken in a completely matter-of-fact manner: "We should go and live in the Arctic Circle," said Lucy's father. The Queen of Melanesia makes a brief cameo and of course Lucy, the youngest child, is the most sensible of them all. Partnered with Dave McKean's atypical artwork, it makes for a picture book to stand out from the rest of the shelf.
Which are all things that make me love this book. But what about my two-and-almost-three-quarters year old and very-almost-five year old? This is a fairly long picture book, and my two girls sat silent and wrapped in the story the first time I read it to them. Afterwards I asked what parts they liked:
MG: When the wolves came out of the walls!
DG: Pig puppet!
DG's two year old self of course being most concerned by the loss of a favourite toy and MG's nearly five year old self loving the humour in the wolves. Pretty much spot-on developmentally I suspect…

On subsequent readings, they've still sat and listened intently but now with interjections from the eldest: "It's all over!" MG is at a stage where she half-listens to books and then goes and draws whilst I continue reading (she is more interested in trying out her new reading skills and reading to us) and DG is definitely in a sensitive period for books as she regularly drops them on my lap demanding "You read it!" and "Again!" when I've finished.
I would hugely recommend this book, but some parents may find it too scary. The children should be fine though 😆
I suppose I'll have to read my copy of The Day I Swapped my Dad for Two Goldfish to my girls next then…