FF#31
Ouch I Need A Plaster: Nick Sharratt (2009)
Ness the nurse has a nice, kind face.
Read more about Fiction Fridays here.
Like to take part? Read the rules and guidelines and get the badge here.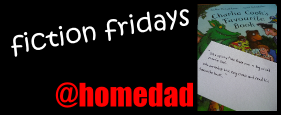 Extra Info:
This book came in one of the Bookstart packs, MG's toddler pack, and although it's a board book I can't bear to 'retire' it as MG loved it so much. I have already mentioned that MG has always (and still does) taken a liking to Nick Sharratt's art. It's one of the reasons she's loved the Tracy Beaker TV shows for so long, as she didn't understand most of it when she first discovered it (and probably still doesn't…) but she loves the animated parts!
Ouch I Need a Plaster goes through a variety of children as they each get a plaster from Ness the Nurse for various scrapes and bumps, while at the top of each page the plasters are shown in a line disappearing as each one is used. For some reason "one, two, three for poor old Lee" has always been a favourite part!
The rhyming text and colourful pictures make this a perfect book for toddlers and it also subtly introduces counting backwards from ten as each plaster is used. But don't despair, Ness has kept one last plaster just in case you need it.
A perfect gem of a book, especially for when toddlers get the inevitable bumps and scrapes that they pick up on an hourly basis… I think everyone in the Chaos house can recite this one from start to finish and it's not been grown out of quite yet 🙂
It looks like you can only get this book pre-loved, and only in board format, but I still recommend trying to get a copy if possible if you have babies or young toddlers.