FF#20
Dirty Bertie: David Roberts (2002)
This is Bertie. He used to have dirty habits.
Read more about Fiction Fridays here.
Like to take part? Read the rules and guidelines and get the badge here.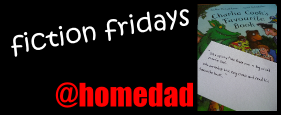 Extra Info:
This is such a fantastic book. It might not suit every parent's sensibilities but I love it (I taught my girls to say 'fart' instead of 'wind', I'm not the greatest example… :lol:)
The first half of the books lists all the different 'dirty' habits that Bertie has – eating food off the floor, picking his nose, weeing in the flowerbeds… and the response from various members of his family: "NO BERTIE! THAT'S DIRTY, BERTIE!" which is fantastic for children to join in as you read the book again (and again and again!)
The second half of the book shows why he stopped all these habits – being sick from eating off the floor etc… except for one last habit which is even worse than first mentioned! David Robert's pictures are fantastic, and most children will find this book hilarious. To be gender stereotyped, little boys will love Dirty Bertie, and the sequel Pooh! Is That You, Bertie? But my little girls love these books and find them funny too, so ignore my lapse into gender stereotyping there!
This book does also technically do a serious job of explaining why not to do certain things (like eat random sweets off the floor) in a very humourous manner. Highly recomended.