FF#34
Reckless Ruby: Hiawyn Oram & Tony Ross (1992)
Once there was a little girl called Ruby.
Read more about Fiction Fridays here.
Like to take part? Read the rules and guidelines and get the badge here.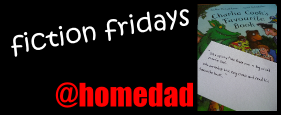 Extra Info:
Poor Ruby, all anyone notices about her is her beauty. She's "…so precious I expect she'll grow up and marry a prince who'll wrap her in cotton wool…" Ruby is having none of this of course, and sets out to be as un-precious as she can possibly be.
She does all sorts of reckless and dangerous things (which in this health and safety conscious world I should point out should not be attempted at home :lol:) and ends up in the children's ward for six weeks. At last her parents say she's not precious so she can stop being reckless again.
Hilariously funny, with perfect Tony Ross illustrations of all the silly things she gets up to ("… eat fire, and swords, and porcupines…"; "…smoke five cheroots in the shrubbery…") A perfect antidote to stories of precious princesses. Not that we have many stories about precious princesses (Princess Spaghetti being a favourite non-precious princess) but sadly MG has chosen a couple of Disney 'books' so this is a much needed distraction! This was a fantastic charity shop find for us, and definitely recommended – widely available second hand, e.g. from Awesome Books.