FF#18
Sir Charlie Stinky Socks and the Really Big Adventure: Kristina Stephenson (2007)
"Once upon a time, there was a deep, dark forest, where monstrous trees groaned, terrible beasties moaned and wiggly woos waited to tickle your toes."
Read more about Fiction Fridays here.
Like to take part? Read the rules and guidelines and get the badge here.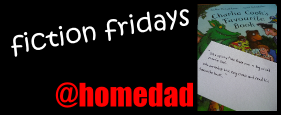 Extra Info:
This is a fantastic tradition-busting fairy tale with twists and turns all through the book. On page three we have: "And what was behind that little wooden door? Well, nobody knew, because nobody ever went there. THE END."
Except THE END is crossed through, and the story continues: "At least… Not until the day when…" The book is full of lovely moments like this and the pictures and text are fully integrated telling the story with the text meandering around the pages when needed.
There are also flaps to lift, four giant ones that extend towers above the pages or give a huge panorama, I am a fan of this method of extending illustrations in picture books.
My favourite part of the book (although there are so many wonderful parts to choose from) is a double page spread that is mostly filled with text made of different font styles, weights and sizes. This is the completely hilarious denouement to the entire adventure and I would hate to ruin it for anyone who hasn't read this book.
Sir Charlie Stinky Socks is a definite favourite in this household, and thoroughly recommended.
"And everyone cheered hooray, hooray, hooray, because that's what people do at the end of a really big adventure."