FF#23
Welcome to Alien School: Caryl Hart and Ed Eaves (2012)
"Red-Five? Red-Five? This is mission Control. Get ready for countdown."
Read more about Fiction Fridays here.
Like to take part? Read the rules and guidelines and get the badge here.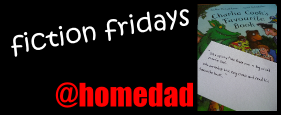 Extra Info:
This is the third book in a series about Albie, a small boy with a huge imagination. In the first book, Albie went with his mum to the supermarket where the shopping list included reptiles, parrots, monkeys, lions and a very large surprise… In the second book, Albie planted some seeds with his mum and the next day his garden is a prehistoric jungle full of dinosaurs and jelly bean trees…
In this book, Albie's mum drops him off at the wrong school – on a different planet! Here he has to cope with strange lessons, strange new friends and even stranger food. But by the end he's had great fun and wants to take a friend home – but they can't because he has to go swimming. And that's another adventure…
Welcome to Alien School has really caught MG's imagination. She requests it regularly (I had to prise the three books from under her as she slept in order to take a picture!) and she plays pretend school with alien teachers, bossing her little sister: "Time for Alien School!"
One thing that I particularly like in this book is the maths lesson at Alien School. It's a pet hate of mine how it's socially acceptable to say maths is difficult, which therefore becomes self-fulfilling as kids believe it is so don't try so find it hard etc… But Albie loves maths! Yay! He may not be able to do Alien maths, but that's because it's Alien!