FF#30
The Pirate Cruncher: Jonny Duddle (2009)
My dear fellow pirate, Do ye want to be RICH?
Read more about Fiction Fridays here.
Like to take part? Read the rules and guidelines and get the badge here.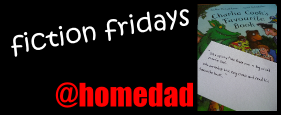 Extra Info:
I was going to review The Pirates Next Door, also by Jonny Duddle but then I read The Pirate Cruncher and just had to review that first. Because I read The Pirates Next Door first, I thought The Pirate Cruncher would be about the same characters so the whole book was a lovely surprise. The Pirates Next Door deserves its own review as it's also a wonderful book but I have totally fallen for The Pirate Cruncher and DG likes it best too so we're doing that one first.
Jonny Duddle's art is breathtakingly gorgeous. Forget picture book, this works as a (very short) graphic novel too and I wouldn't hesitate to recommend it to adults (in fact, I have: "You must read this!" I say, thrusting the book into unsuspecting hands…)
The first time I read this book, I didn't concentrate fully as I was reading it to myself late at night so I was caught by surprise about a fact that now seems glaringly obvious. However, it is so subtly portrayed in the images that I shan't mention what because it was lovely to go back and re-read with a different view the second (and third, and fourth, and many more…) time(s)!
MG loves pointing out all the little hints in the pictures to me: Is that a wave…? DG of course loves the book because it's pirates and has a monster 🙂 There is a lovely large flap page where you get to see the Cruncher hidden under the water. Today MG was studying it and said "He's a really good drawer, isn't he?" She's clever is that girl (of course I'm biased!)
The only slight negative (and it is very slight) is that because I read The Pirates Next Door first, I was expecting rhyming text but The Pirate Cruncher changes between rhyme and prose, mainly the fiddler sings in rhyme but some of the rest of the prose is rhyme too which confuses me slightly (I'm easily confused). It doesn't bother the children and is probably just due to the slightly odd way my brain works!
Hilariously funny as well as beautiful, this is a book to be read again and again, and to pore over the pictures spotting all the little details that you missed the other times you read it. I utterly recommend it for all children who like their pirates or monsters, or just some fabulous artwork.
And if you want to read a review of The Pirates Next Door right now, there's a lovely one at The Book Sniffer plus an unmissable interview with Jonny Duddle. There's also a review, social commentary and great ideas for pirate activities over at Playing By The Book (this is a must read, off you go now!)