FF#27
Whiffy Wilson: Caryl Hart & Leonie Lord (2011)
There was a wolf called Wilson
Who never brushed his hair.
He never washed his paws or face
Or changed his underwear.
Read more about Fiction Fridays here.
Like to take part? Read the rules and guidelines and get the badge here.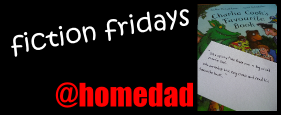 Extra Info:
Rhyming books are lovely to read aloud, the rhythm carries the story along and they're easier to memorise (I remember reciting the whole of the Gruffalo to MG to calm her on a trip out when she was younger, although I can't any more!) I also like that it gives children the chance to guess the next word by working out the rhyme. Whiffy Wilson has a fantastic example of the word you're *supposed* to guess being replaced by a non-rhyming word which makes me giggle (although my girls haven't quite 'got' that idea yet but I'm sure the eldest will soon…)
Sadly there are several children's books written in rhyme that just don't scan and use words to force the plot that don't rhyme, or make sense. I once said that I prefered prose books because a bad rhyme can be so awful but a good rhyme is perfect. Whiffy Wilson is on the perfect side.
Wilson is a wolf who doesn't like to wash, but through the intervention of his good friend Dotty he learns that washing is good. As a parent I love the fact that the book distinguishes between 'good' and 'bad' dirt. I do want my children to have fun, to splash in puddles, to play with mud, to climb trees, to get dirty because they were exploring and adventuring… So I love that there is a distinction made between this and dirt that can make you ill. Nice and educational 🙂
The artwork along with the verse is beautiful. Leonie Lord appears to use pencils for her art which give a lovely scruffy feel to Wilson. Wilson is an adorable character (despite being smelly in the beginning) and Dotty a great friend. The duo make a book suitable for boys and girls, and I love the non-sterotyped girl swinging through trees.
Between the wonderful artwork and the humourous verse, this book is a delight to read over and over again. I hugely recommend Whiffy Wilson.